Glimpse of Rajasthan
Day 1 (Delhi) Arrival of tourist at Delhi airport. They will receive meet and greet at airport and than further transferred to the hotel in Delhi. In the second half of the day we will visit the following monuments:

Qutub Minar, (73 meters high tower made of red sandstone, it is a UNESCO protected site.)
India Gate (a war memorial to hound the Indian soldiers).
President House (a huge palace designed by Lutyen and which also host now government offices).
Laxmi Narayan Temple (have a glimpse of hindu architecture and religion).
Overnight at Delhi.
Day 2 (Delhi to Jaipur). 0700 hrs. In morning we proceed to Jaipur, which is not an old city but host majority of important sightseeing that can be seen in one city in India. On arrival checkin to your hotel. In the second half of day you can visit:
Hawa Mahal (a palace made of windows for women to see the day to day life of their city).
Jantar Mantar (an observatory made of bricks which consist a vast variety of calculation instruments, with their help you can not only find the time but also your horoscope. One of the biggest is Sundial).
City Palace - The palace built for the Royal family. You can see some of the luxurious decoration and traditional architecture. Also visit the museum inside to know about the traditional dresses of Royal family.
Return to your hotel and take rest. Overnight at Jaipur.
Day 3 (Jaipur - Bikaner) 0800 hrs. Morning drive to the city of Bikaner. On arrival checkin to your hotel and after lunch proceed for the tour of Junagarh Fort. Here you will see -
Junagarh Fort - This 16th century fort has unique architecture and was captured only once for one day.
Museum - Junagarh Fort also host in itself one of the richest war Museum of India. Have a look on the armours being used by Rajput soldiers during the fights. There are many other things to be seen in the museum like - silver jewellery, costumes, miniature paintings and some manuscripts.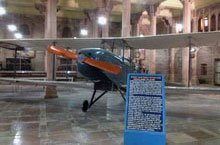 Day 4 (Bikaner - Jaisalmer) 0800 hrs. Leave for Jaisalmer, on arrival checkin to your hotel and in the evening drive towards the west -
Sam Sand Dunes - You will see and enjoy the Thar desert at the touristic place known as Sam Sand Dunes. Enjoy Camel Safari. A romantic dinner can be enjoyed here in desert. It also has a colourful environment with many local artists dancers performing their skills while walking in the desert.
Return to your hotel in Jaisalmer.
Day 5 (Jaisalmer - Jodhpur) 0800 hrs. Drive from Jaisalmer to Jodhpur. On arrival checkin to your hotel. In the morning go around exploring the city with first visiting -

Jaisalmer Fort - a living fort of Jaisalmer inside which people lives in dwellings. The fort also has some of the beautiful temples.
Patwon ki Haveli - Later on visit Patwon ki Haveli, a unique and famous home architecture of Rajasthani traders.
After the tour drive to Jodhpur. Overnight at Jodhpur.
Day 6 (Jodhpur - Jaipur) 0800 hrs. In the morning visit the places like -
Mehrangarh Fort - The huge fort made of big rocks and still belongs to Royal family. It stands on the cliff showing its magnificent power.
Jaswant Thada - The memorial of Maharaja Jaswant Singh - II, a marble architecture and beautifully designed.
After having the short visit of interiors of hospitable Rajasthan come back to the Pink City of Jaipur. Overnight in Jaipur.
Day 7 (Jaipur - Agra). 0800 hrs. Wake up in the morning and get prepared for the Royal welcome in the Amer Fort on elephants. Today you will see -
Amer Fort - An elephant ride while entering the marvellous Amer fort is a lot better experience than just simply riding the elephant.
Jal Mahal - A on the way photostop along with the picturesque background of Palace in Water Lake.
Fatehpur Sikri - An abandoned city or a place left for the ghosts is how people know Fatehpur Sikri today but this is a lot more with many beautiful red sandstone architectures which takes you back to the colourful era of many artists of Akbar's time.
Drive to Agra and overnight.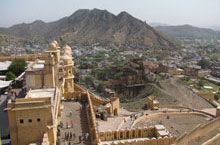 Day 8 (Agra - Delhi). 0800 hrs. The former capital of India, Agra once thrived to its full importance on the bank of Yamuna. Today you will see one of the seven wonders of world -
Taj Mahal - Don't forget to take your snaps with Taj Mahal on the background, this will be your most memorable moment during the tour of India.
Agra Fort - By visiting here you will know the importance of defence in medieval time and get explore the fort with different architecture constructed during different Mughal Emperors which consist red sandstone as well as marble architecture of Shah Jahan's time.
After the tour drive on the newly built 8 lane highway Yamuna Expressway which shows the infrastructure development of India. Arrive delhi and transfer to airport for your onward flight.