Rajasthan Tour
Day 1: DELHI. Arrive New Delhi airport. Our representative will meet you after customs and immigration. Transfer to your hotel and overnight.
Day 2: DELHI - MANDAWA (258 km). Breakfast in the hotel and move onwards to the Shekawati town of Rajasthan Mandawa. The city rose in 18th century as an stopover town and fortified for its defense. Arrive Mandawa and check-in to your hotel. Late afternoon visit the city famous for its Shekawati style paintings on its Haveli (a private mansion). Journey to Mandawa, a quaint town known for its ornate havelis (traditional mansions) adorned with frescoes. Stroll through the charming streets and soak in the artistic heritage of the region. Overnight in Hotel.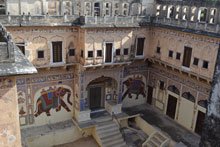 Day 3: MANDAWA – BIKANER (188 km). After breakfast proceed for the second visit of Mandawa and than move onwards to Bikaner, which is like a resting place in the Thar Desert. Afternoon visit the Junagarh Fort which is considered as one of the best forts in the world. The fort house in itself a collection of lot of antiques along with arms (sword, guns, world war one machine guns and an old plane gifted by british airport to than Maharaja Sadul Singji).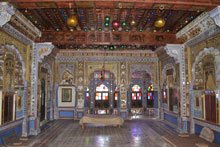 Day 4: BIKANER - JAISALMER (331 km). Breakfast and depart for Jaisalmer. A city located far from the bustling sound of cities and within the Thar desert. A drive to Jaisalmer will take you to a fascinating and memorable journey. A must visit place in a lifetime. Stop to visit Gadi Sagar Lake. Arrive and checkin to hotel.
Day 5: JAISALMER. After breakfast visit the Jaisalmer Fort. This is a unique fort in the world where people still live. Inside the fort you will find numerous old houses, cows and temples. After fort visit some of the famous Haveli of Rajasthan - Nathmal Ji Ki Haveli, Salim Singh Ki Haveli and Patwon Ji Ki Haveli. Evening go inside the Thar desert for a camel ride during sunset. Overnight at hotel.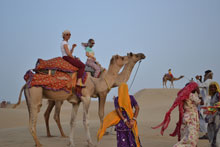 Day 6: JAISALMER - JODHPUR (268 km). Breakfast in hotel and depart for Jodhpur, located on the eastern region of Rajasthan. Jodhpur is second prominent city of Rajasthan after Jaipur. Houses in the city are painted in light blue giving the reflection of sky. On arrival visit the mangificent fort Mehrangarh built on the hilltop. The inroads of the fort are so strong and big that still elephants are used during private function in the fort. Also visit Jaswant Thada, the resting place of Maharaja Jaswant Singh II. Overnight at hotel.
Day 7: JODHPUR- JAIPUR (329 km). After breakfast depart to Jaipur. Arrival and check-in to hotel. In the afternoon visit the Observatory Jantar Mantar. It signifies instrument for calculation and was built by Sawai Jai Singh II in 1734. The major attraction is Sundial which gives the local time of Jaipur. Overnight at hotel.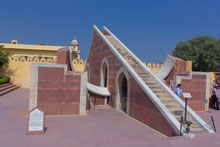 Day 8: JAIPUR. In the morning start your journey of the beautiful city Jaipur by visiting the magnificent fort Amer located on the outskirt of the city. Tourist can visit the fort by elephant or jeep. After entering the fort, you will see the beautiful architecture and stone carvings throughout the fort. The fort include Mirror palace and Kali Devi temple. Later on explore the Pink City of Rajasthan by visiting Hawa Mahal and City Palace and its museum. Overnight in Hotel.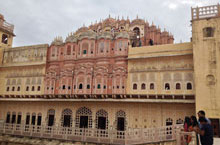 Day 9: JAIPUR - FATEHPUR SIKRI - AGRA (233 km). After breakfast depart for Agra. On the way visit Bharatpur Bird Sanctuary. You can enjoy Riksha drive here while roaming around in the Marshy land which is favorite breeding grounds for many birds coming here from all over the world. Further drive to Fatehpur Sikri which was supposed to substitute Agra as a capital during 16th Century, however was abandoned after 14 years due to shortfall of water in that area. The structure belong to medieval architecture built in red sandstone. Arrive Agra and check-in to your hotel. Overnight at hotel.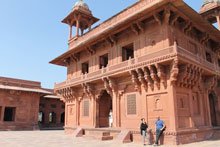 Day 10: AGRA – DELHI (206 km). After breakfast, early morning visit Taj Mahal. The beautiful monument Taj Mahal is famous in the world for its amazing architecture of white marble and as a symbol of love. Further visit Agra Fort which was one of the best fortification during Mughal time in India. Drive towards Delhi. On arrival checkin to your hotel. Overnight.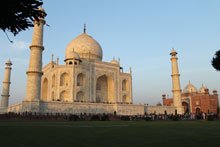 Day 11: DELHI. Departure. Transfer to airport for your onward flight.