North India Summer Special Tour
Day 1: DELHI. Tourist arrival at Delhi IGI airport. Guests will be met at airport and transfer to their respective hotels.
Day 2: DELHI. Start your journey to Incredible India with a comprehensive tour of Delhi which includes not only historical monuments but also the cultural and religious places. In the morning start your day with paying a visit to Lakshmi Narayan Temple. Later on, visit Old Delhi which takes you into the Mughal era with its open wholesale market known as Chandani Chowk and remarkable Red Fort. In Old Delhi also visit Jama Masjid and drive back to New Delhi. In New Delhi visit India Gate and Rashtrapati Bhawan before driving to Lotus Temple, which is symbolic temple of Bahai's Faith. Drive to the complex of Qutub Minar which is an unique combination of Mosque (in ruins), Schools and Tombs. Enjoy the view of Qutub Minar the tallest tower of its times and return to your hotel.
Day 3: DELHI - CHANDIGARH. Early morning drive to Railway station and board your fast train for Chandigarh town departing at 0740 hrs. After 3:20 hrs of journey you will arrive in Chandigarh. On arrival start your tour and visit Rock Garden and one of the first planned city of India known as Chandigarh. After the tour drive to your hotel and rest.
Day 4: CHANDIGARH - AMRITSAR. Drive from Chandigarh to Amritsar. On arrival visit the great Golden Temple which is one of the holiest place for Sikh religion. Visit Jaliyanwalan Bagh, the garden of martyr of Indian Freedom Struggle. Later in the afternoon drive to the border of India and Pakistan known as Baga Border and enjoy the great flag ceremony performed by soldiers of India and Pakistan.
DAY 5: AMRITSAR - DHARAMSHALA. Drive to Dharamshala. It is a holy place where Dalai Lama spent most of his time after his exile from China. Today you will visit His Holiness Palace and the Namgyal Monastery. Get the knowledge of Tibetan religion by visiting Tibetan Library. Also visit the Tibetan culture centre. Overnight in Dharamshala.
DAY 6: DHARAMSHALA - MANALI. Start your journey to the famous honeymoon destinatin of India known as Manali. It is located at an altitude of 2050 m. On the way don't miss the chance to see the Mandi town. There are numerous temples which are dedicated to Lord Shiva and is notably the important religious places for Hindus due to presence of many temples. Many of these temples are protected by Archaeological Survey of India. Drive to Manali and check-into hotel.
DAY 7: MANALI. After breakfast visit the famous places of Manali starting tour with Hidimba temple of goddess Durga. Also visit Club House, Tibetan Monastery and Hot spring known as Vashisht Bath. It is believed that a dip into spring cure many skin diseases. In the afternoon visit Solang Valley. You can enjoy the picturseque view of Himalaya and can enjoy many sports activities like Hot air ballooning, Mountain Bike, River crossing, Rock climbing and Paragliding etc
DAY 8: MANALI - SARCHU. Drive to Sarchu. Today you will start your journey towards the serene and remarkable landscape of Leh and Ladakh region. Arrive Sarchu and overnight near the Tsarap Chu river. Sarchu famous mainly as an overhaul destination is adorable for its terrain and clear sky during Summer.
DAY 9: SARCHU - LEH. Driving through the mountain pass towards Leh will give you the glimpse of rivers, lakes and high mountain peaks. Enjoy the stunning beauty of Leh and Ladakh region. Overnight at Leh.
DAY 10: LEH. Morning rest and in the afternoon proceed for Leh City tour visiting Leh Palace, Shanti Stupa and Monastery. Further also visit Stok Palace which is famous landmark of Leh Region. Built in 1820 by local craftsmen, it belongs to the Namgyal Dynasty.
DAY 11: LEH - ALCHI - LEH. Morning drive to Alchi Monastery located in a small village. Alchi is located on the lowland and is also famous for its wall paintings. While driving back visit Likir Monastery and a Gurudwara on the way. Today you will be passing through the famous magnetic hill. It pull the cars uphills, however it is a typical optical illusion but good enough to enjoy the ride. Overnight in Leh.
DAY 12: LEH - NUBRA VALLEY. Morning start you tour by visiting Nubra valley. In the afternoon visit Hunder and Diskit monastery. It is also known as Deskit Gompa and one of largest and oldest monastery of Nubra valley. Famous icon of Maitreya Buddha is located near the monastery. Here you can also enjoy camel safari. The camels here are double humped found only in Nubra. Overnight in Nubra Valley.
Day 13: NUBRA VALLEY - LEH. In the morning visit Samstanling monastery and drive to Leh. On arrival day at leisure to explore the local market of Leh.
Day 14: LEH - PANGONG LAKE. Today enjoy the picturesque drive through Changla Pass to Pangong lake located at the height of 4400 meter. On the way visit some of the villages. Arrive and overnight at tented camp in Pangong Lake.
Day 15: PANGONG LAKE - LEH. In the morning drive towards Leh. On the way visit Thiksey and Hemis Monastery which is also one of the biggest monastery in Leh. Overnight at Leh.
Day 16: LEH - SRINAGAR. Morning take flight and arrive Srinagar and checkin to your houseboat. Day at rest in the beautiful valley know as heaven of earth. You can enjoy the glimpse of floating market in the Dal lake. People can be seen here ferrying the articles, vegetable, flowers etc to and from their shop in the middle of lake. Srinagar is the Summer capital of Jammu and Kashmir. The valley is one of beautiful place in the world which host many gardens and lakes in the Srinagar valley.
Day 17: SRINAGAR. Day full of gardens and flowers, visit some of the famouse gardens of Srinagar: Mughal Garden, Tulip Garden and Nishat Bagh. Also visit Chashmeshahi garden which also has the source of mineral water available round the year even during winters. Drive to the hilltop and visit the Parimahal. You can enjoy the beautiful glimpse of Srinagar valley from the top. Overnight.
Day 18: SRINAGAR - GULMARG (51 kms): If you have come to Srinagar it is worth visiting the Gulmarg known as heaven on Earth. The place was a very famous destination for many Bollywood films. Lot of tourists arrive here during summer to enjoy the skating, skiing and motorbike ride. YOu can reach the top of Gulmarg by Gondola (Cable car). Don't forget to enjoy the local food, specially the Kashmiri Kahwa in the local restaurants available here before returing to your hotel. Overnight at Gulmarg.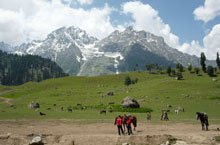 DAY 19: GULMARG - SRINAGAR - DELHI. Depart from Gulmarg and drive to Srinagar. Arrive Srinagar airport and take your flight to Delhi. On arrival transfer to International airport for your onward flight or transfer to hotel in Delhi as per tour program.